Public Housing Association of Residents (PHAR)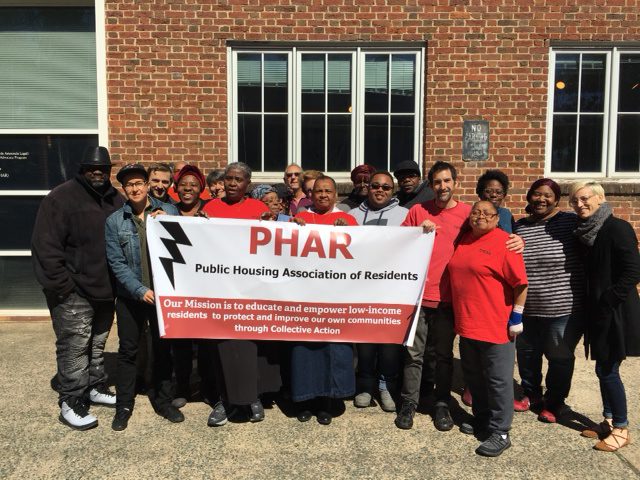 1000 Preston Avenue, Suite C, Charlottesville, VA 22903
phone 434-984-3255      e-mail: brandon@pharcville.org
www.pharcville.org
Job Opening: Part-Time Internship Coordinator/Community Organizer
Overview: The Charlottesville Public Housing Association of Residents (PHAR) is hiring a part-time (20 hours/week) Internship Program Coordinator/Community Organizer.  PHAR's mission is to educate and empower low-income residents to protect and improve our communities through collective action.
Responsibilities: This position will focus on:
Managing the PHAR Internship Program, a 10 hour/week, 6-month program for public housing residents and voucher holders to learn about local government, public housing and more, and to participate in community organizing.
Running and assisting organizing campaigns to engage residents, including:
Building positive and productive relationships with low-income people,
Providing education,
Motivating people to participate in meetings and other events.
Running/helping residents run meetings and workshops.
Participating in meetings of PHAR, city government and the Housing Authority.
Planning, evaluating and reporting on activities.
This position is supervised by the PHAR Lead Organizer. Training will be provided. Candidates must have the capacity to learn about local, state, and national public housing issues, policies and residents' concerns.
Helpful qualities:
Knowledge of public housing, especially from a resident perspective,
Excellent communication skills,
Basic computer skills,
Experience in grassroots organizing and developing effective leaders.
Commitment to improving the lives of low-income people,
Evening availability.
To apply:  Send or bring a cover letter and resume to PHAR (address above).
PHAR is an equal opportunity employer.
PHAR encourages public housing residents/voucher holders, low-income residents, persons of color, women, persons with disabilities and formerly incarcerated persons to apply.