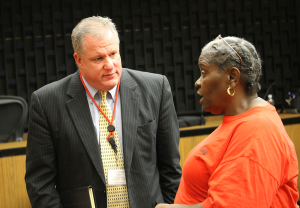 "New Beginnings!" PARTY PARTY PARTY
Thursday June 16th at 5:00 pm at the Legal Aid Justice Center 1000 Preston Ave
Join PHAR and Friends as we welcome the new CRHA Executive Director Grant Duffield and Celebrate the release of PHAR's "Positive Vision for Resident Directed Redevelopment"!
Food, fun, and lots of great folks! We are excited to begin a new chapter in Charlottesville's public housing.
We really hope we'll see you at this important and fun event! Please RSVP to Brandon at brandon@pharcville.org or call (434) 984-3255
The party will include a "pick-a-prize" auction, so prepare to have extra fun and hopefully leave with a gift certificate or other great item. Here's how the pick-a-prize will work: when you arrive at the party, you will be able to purchase 12 auction tickets for $10, or $1 for 1 ticket (or 120 tickets for $100!). You'll put your name on the back of the tickets, then you can place your tickets in the bowls sitting alongside any item you would like to "bid" on. The auction items will be on display in the library annex, the small conference room next to the LAJC library. The more tickets you place, the more you're likely to win. We will draw the names of our lucky winners at the end of the celebration, and you don't have to be present to win.