PHAR is proud to celebrate the completion of our 2015 Internship Program by Dorothy Bartee, Cynthia Ivery, Michelle Jones, Carrie Smith, Kimberly Williams, and Victory Woodson. A ceremony was held on September 18th with guests Rick Turner, Mike Murphy, Julie Jones and Key Note Speaker Dave Norris.
Congratulations to all!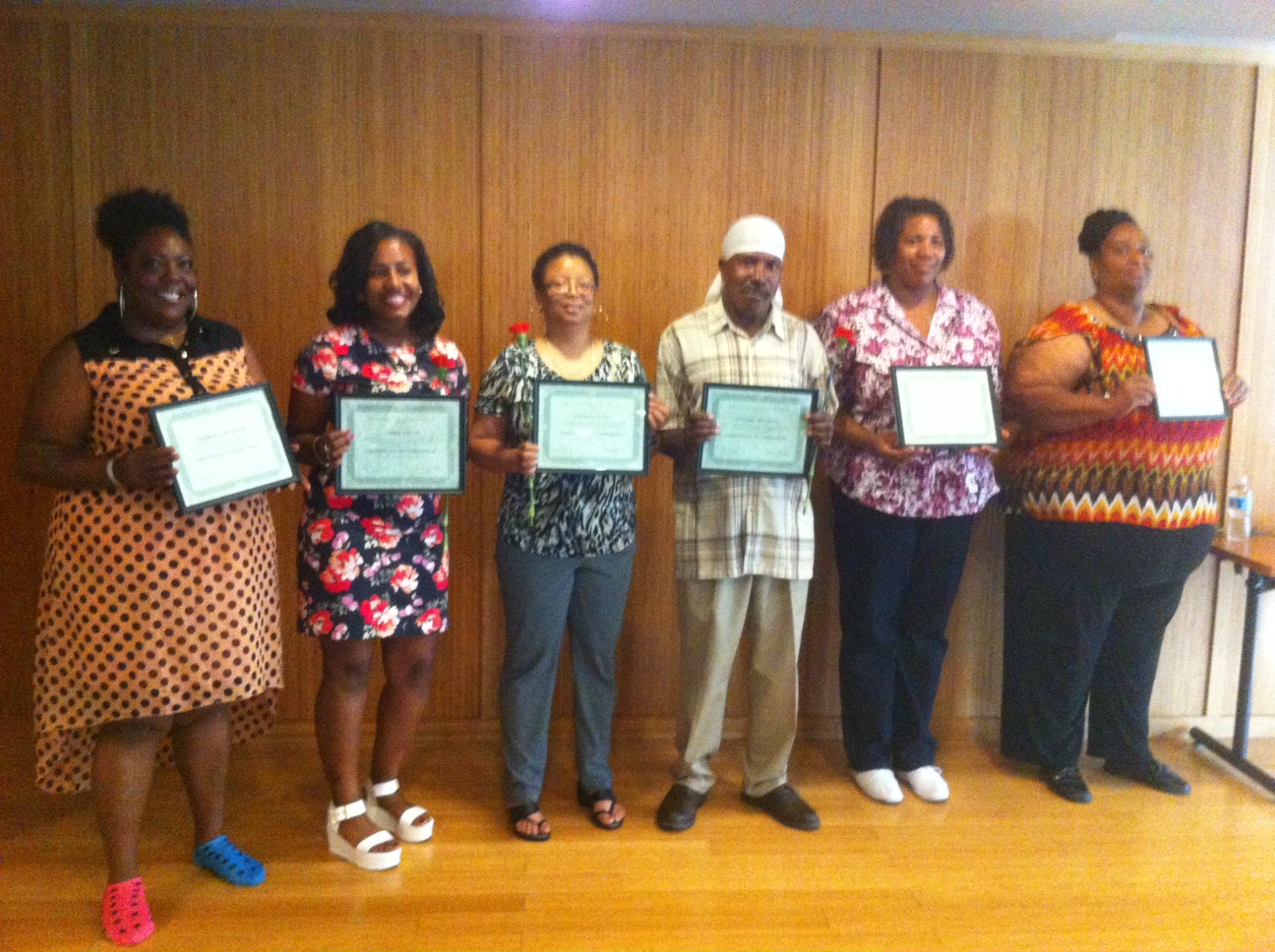 The PHAR Internship Program has successfully graduated 6 more interns in 2015!
The lives of approximately 2,000 public housing residents were improved because of the Interns' community outreach and organizing projects.  As individuals, the 2015 interns have had amazing successes in working towards self-improvement, self-confidence, and self-sufficiency.

Personal Gains
6 interns selected for the 2015 program graduated.
During the course of the program 2 interns obtained employment.
During the course of the program 2 other interns remained employed.
During the course of the program 1 Intern completed the GoDriver Program and is now employed by Charlottesville City Schools.
Another Intern is enrolled in the GOClean program.
During the course of the program 2 interns served on the PHAR Board of Directors
All interns have successfully resolved individual conflicts with CRHA and other agencies.
Program Curriculum
Interns methodically and intensively completed curriculum items related to: Conflict Resolution, Employment and Career Readiness, Leadership, Goals of PHAR and Legal Aid, Government and Housing Authorities, Policies and Procedures of HUD and CRHA, Section 8 program, Grievances, the Court System, Redevelopment, Strategic Planning, Community Organizing, Effective Surveying, and the History of Public Housing in Charlottesville.
Organizing and Advocacy
The 2015 PHAR interns were instrumental in mobilizing and advocating for:
Improved Safety in CRHA Neighborhoods by offering recommendations and mobilizing and advocating for implementation of the recommendations. 19 of 35 recommendations are being implemented or under serious discussion by CRHA or the City of Charlottesville! Interns continue to advocate for implementation of the remaining items.
PHAR's Positive Vision for Resident Directed Redevelopment of Public Housing. Interns conducted 5 workshops to gain valued resident desires for positive outcomes of future redevelopment. Intern work on this project is invaluable to meeting PHAR's strategic plan and ensuring much needed successful redevelopment of public housing in Charlottesville.
PHAR Interns conducted a survey of CRHA residents.
PHAR Interns were instrumental in confronting hard budget decisions faced by the CRHA and have advocated for greater City financial support of the CRHA.
PHAR Interns operated cooling centers during REAC inspections that required residents to remove air conditioners in 95 degree heat.
CONGRATULATIONS and THANKS FOR ALL OF YOUR HARD WORK!